STUDENT or STAFF ILLNESS (Updated 8/16/21)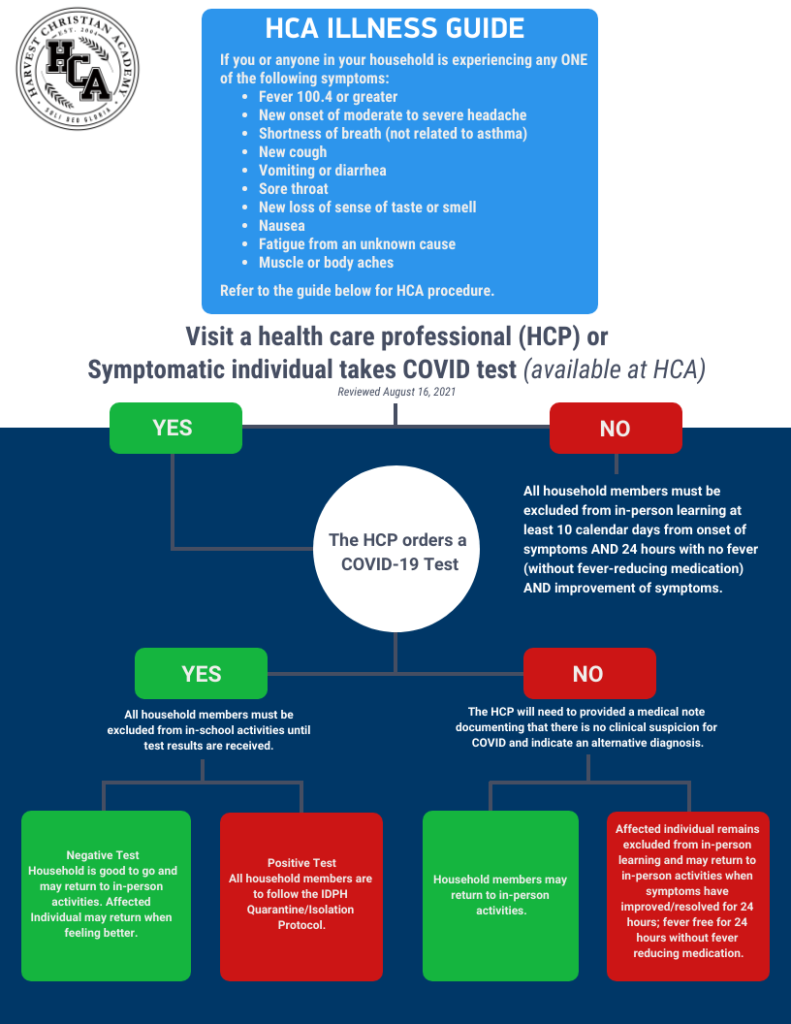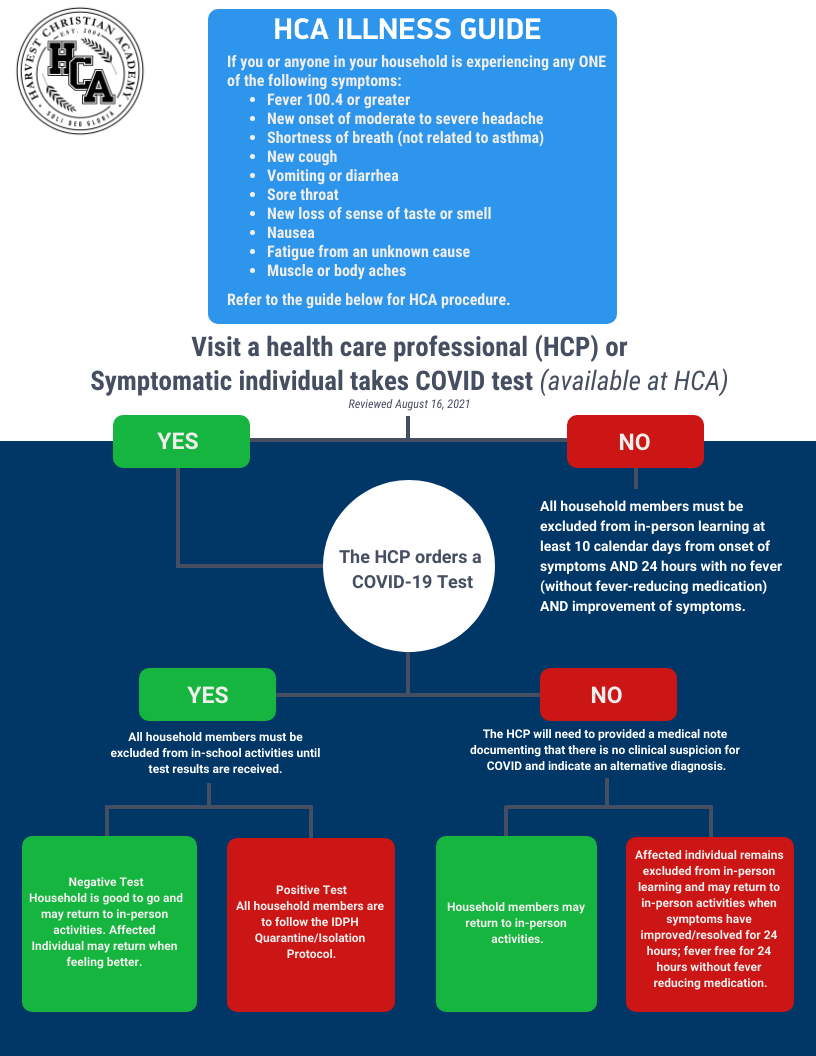 STUDENT HEALTH PROCEDURES
Illness
If you or your student (any household member is sick) have any of the following symptoms: Fever 100.4 F or greater; new onset of moderate to severe headache; shortness of breath – not related to asthma; new cough; vomiting; diarrhea; abdominal pain from an unknown cause; new congestion/runny nose; new loss of sense of taste or smell; nausea; fatigue from unknown cause; or muscle/body aches, please refer to the chart above for school policy. You must visit a Health Care Provider or receive a COVID test. See the chart above for the appropriate next steps.
All household members must be excluded from In-Person learning until a diagnosis for the sick individual is made.
COVID-19 Exposure/Known Close Contact
If a student or a staff member has known contact and exposure to a person who has tested positive for COVID-19, the individual is to quarantine at home for 10 days (unless the close contact is fully vacinated or has tested positive for COVID in the recent past according to the CDC guidelines). If this is a student, the student will begin e-learning as long as they are healthy. If this is a teacher, the teacher will teach via zoom as long as they are healthy. Exposure is defined as contact that is greater than 15 minutes at a distance of less than six feet apart, or as deemed as close contact by the parent or school staff.
Student or Staff with a positive COVID-19 test
Necessary precautions and actions will be determined by grade level of students and staff, and level of exposure. All areas in the building will undergo a thorough cleaning and sanitization in addition to normal cleaning procedures if someone tests positive for COVID-19.
See the Illinois Department of Public Health guidance for schools here.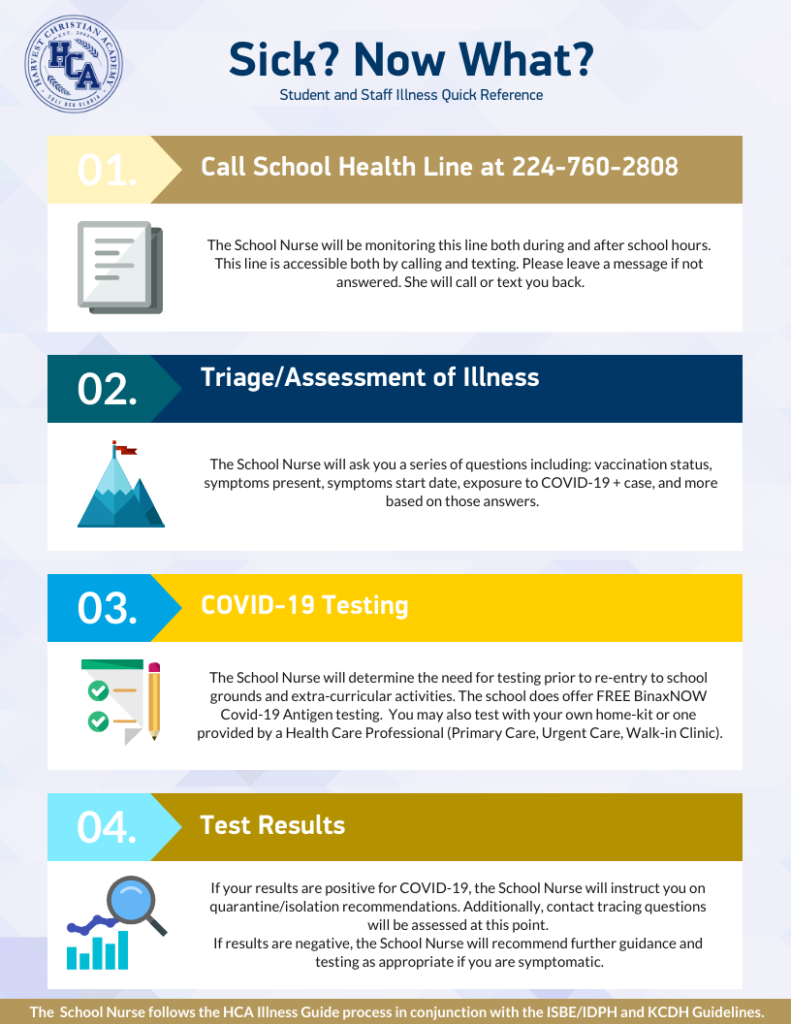 CLASSROOM LEARNING
As we believe in always teaching the whole child, in-person teaching provides the superior overall student experience. We are committed to a reasonable and balanced approach to the classroom environment. There are modifications to ensure social distancing between desks and enhanced cleaning and sanitizing of the classrooms. Additional cleaning procedures are outlined below. We are committed to being able to provide excellent in-person learning for our students while maintaining a healthy environment as much as is possible.
STUDENT AND FACULTY HEALTH
The health of our families, students, and faculty is extremely important to us. To that end, there will be an increased cleaning and sanitizing schedule for the entire school building. Classrooms will be sanitized frequently throughout the school day. Hand sanitizer and hand washing will be utilized by students before eating, after gym class and after being outside, and as needed throughout the day. Students will be kept in smaller and more consistent groups as possible, mostly by grade level. We are working in conjunction with our building services team to build processes and procedures that will increase the frequency and efficacy with which every area is cleaned and sanitized. Our desire is to be able to provide a safe and healthy in person school experience.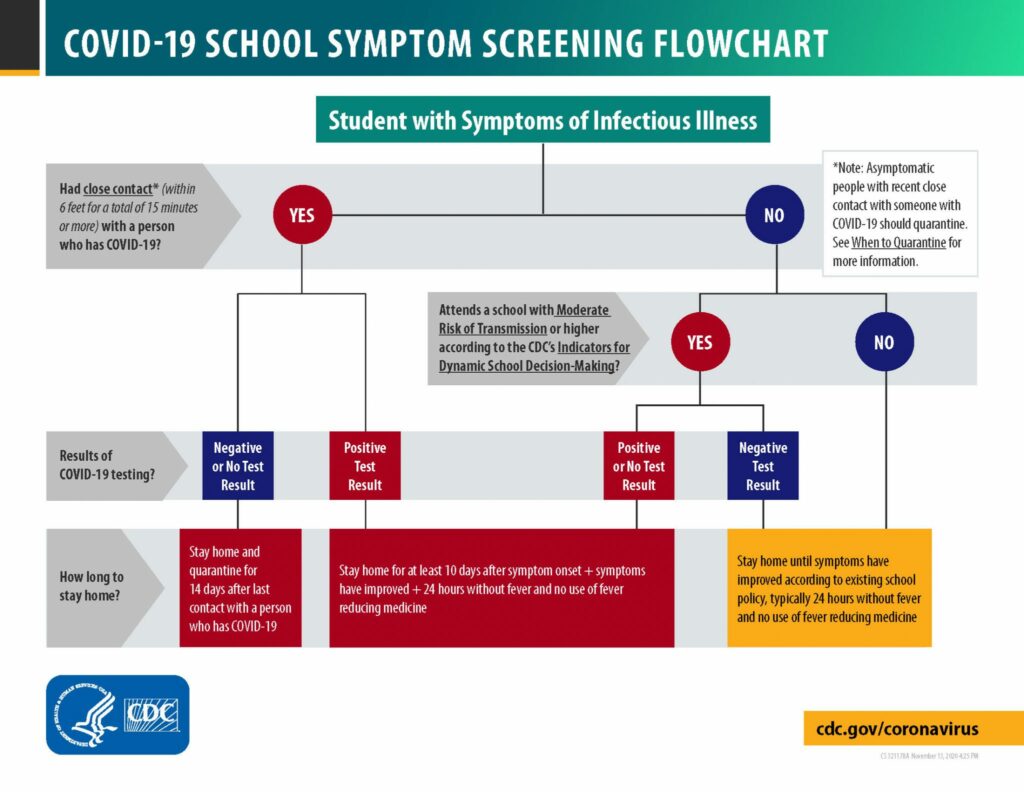 CURRENT CDC GUIDELINES
HCA recommends all staff and students follow the current CDC guidelines.
Students benefit from in-person learning, and safely returning to in-person instruction in the fall 2021 is a priority.
Vaccination is the leading public health prevention strategy to end the COVID-19 pandemic. Promoting vaccination can help schools safely return to in-person learning as well as extracurricular activities and sports.
Due to the circulating and highly contagious Delta variant, CDC recommends universal indoor masking by all students (age 2 and older), staff, teachers, and visitors to K-12 schools, regardless of vaccination status. HCA requires universal indoor masking by students (age 2 and older), staff, teachers, and visitors to K-12 schools, regardless of vaccination status.
In addition to universal indoor masking, CDC recommends schools maintain at least 3 feet of physical distance between students within classrooms to reduce transmission risk. When it is not possible to maintain a physical distance of at least 3 feet, such as when schools cannot fully re-open while maintaining these distances, it is especially important to layer multiple other prevention strategies, such as screening testing.
Screening testing, ventilation, handwashing and respiratory etiquette, staying home when sick and getting tested, contact tracing in combination with quarantine and isolation, and cleaning and disinfection are also important layers of prevention to keep schools safe.
Students, teachers, and staff should stay home when they have signs of any infectious illness and be referred to their healthcare provider for testing and care.
Many schools serve children under the age of 12 who are not eligible for vaccination at this time. Therefore, this guidance emphasizes implementing layered prevention strategies (e.g., using multiple prevention strategies together consistently) to protect students, teachers, staff, visitors, and other members of their households and support in-person learning.
Localities should monitor community transmission, vaccination coverage, screening testing, and occurrence of outbreaks to guide decisions on the level of layered prevention strategies (e.g., physical distancing, screening testing).
Recommending for fully vaccinated people who have a known exposure to someone with suspected or confirmed COVID-19 to be tested 3-5 days after exposure, regardless of whether they have symptoms.