The Harvest Christian Academy music program provides students the opportunity to develop and express their God-given gifts and talents through vocal and instrumental music study and performance. Beginning in the lower school, our music program is designed to foster music literacy, in order to produce musicians capable of thriving in any music ensembles in which they may participate in. In addition, we strive to teach all students about worship as related to music and song, valuing music as art, a language and an aesthetic experience.
Bands
Band instruction begins in grade 4 (Beginning Band) and continues all the way through the upper school Symphonic Band.  In grade 6 students can join middle school concert bands, middle school percussion ensemble, middle school jazz ensemble or "Fishstix" (a music elective based on the Broadway show, Stomp).  High school students can join percussion ensemble/marching drumline or symphonic band.  Each ensemble performs at our annual concerts, such as Java Jam, Christmas Concert, high school and middle school Showcases and Spring Concerts. The high school Symphonic Band and Drumline also serve as HCA's pep and marching band to support our athletic teams.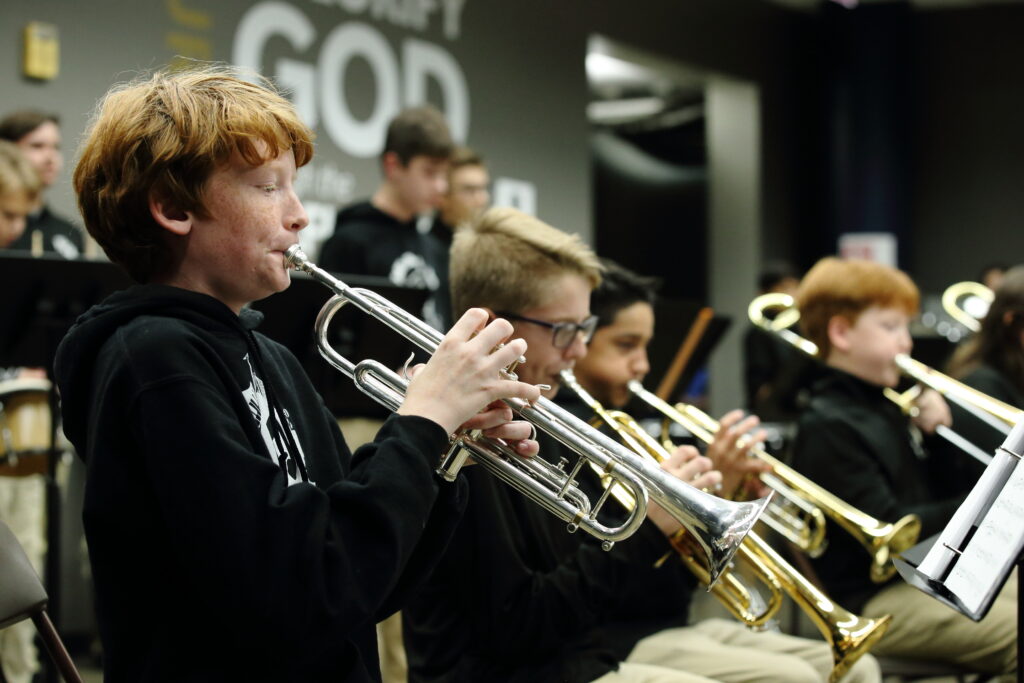 Strings
The world-renown string pedagogue Dr. Shinichi Suzuki said "Beautiful heart, beautiful sound." For strings at HCA, our musical study is another extension of reaching the hearts of students as they learn how to make a joyful sound to the Lord. Lower school students begin using Suzuki's natural language approach by focusing on proper set up and technique while gaining an 'ear' for music and the confidence to express themselves on their chosen instrument. The goals of middle school classes are to build on this foundation and to multiply our God-given talents through discipline and the desire to glorify our Creator with dedication and an ever maturing ability to perform at our highest level. We perform a variety of music from contemporary popular songs to well-known classical music at large and small venue opportunities throughout the year.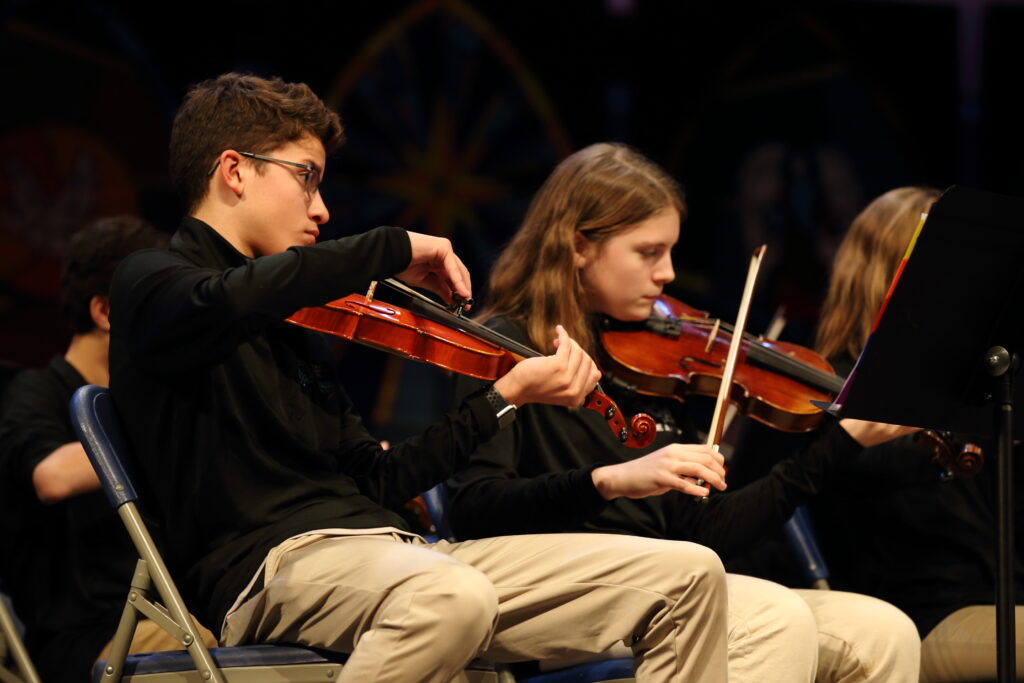 Worship Teams
Worship and production classes are based on the philosophy that worship is ascribing worth to God.  Much of what is exampled at weekend services in Harvest Bible Chapel's Vertical Worship is taught to our students.  The idea that worshiping Jesus Christ is best done not when we just sing about him or what he has done or what he will do in the future.  The highest and best worship is modeled by what the angels do, sing to God and about God.  Student-led worship teams lead worship in all our three chapel services therefore, students are weekly practicing the art of being worship leaders.  In addition to these weekly opportunities, our upper school teams participate in both our Christmas Concert and our Spring Concert and are a highly anticipated part of closing the concerts.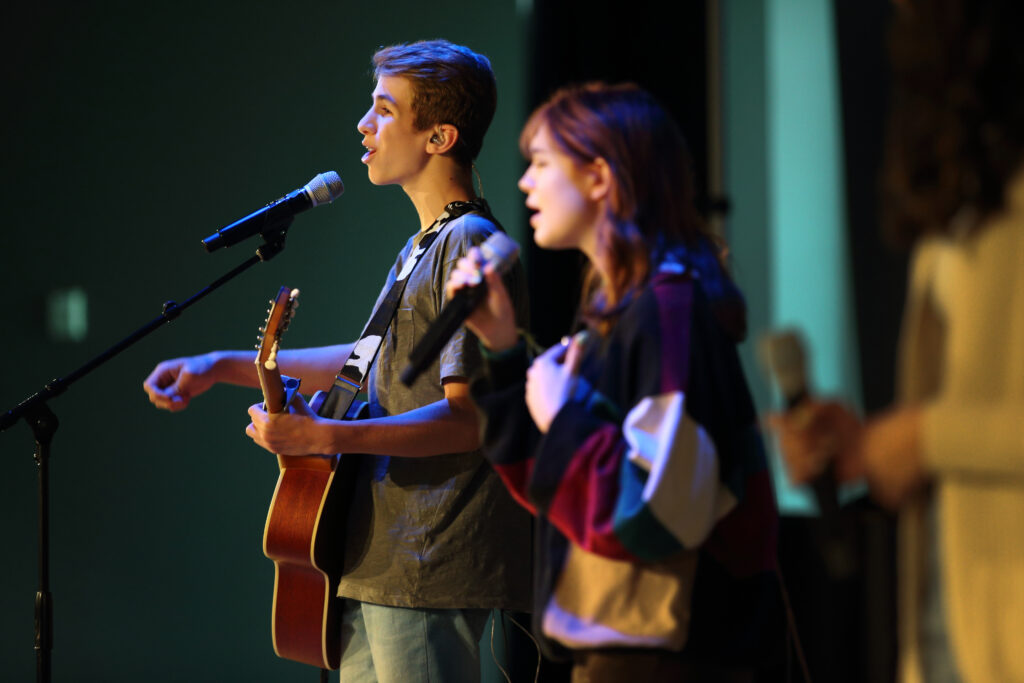 Choirs
From kindergarten through grade 5, lower school students have music class twice per week. Here they listen to, respond to, and create music, using their voices as well as instruments. These instruments include various percussion instruments, recorder in grades 3 and 4, and ukulele in grades 4 and 5.  Elementary students also participate in the Christmas Concert and the Spring Concert every year, and also have the opportunity to be part of the Children's Choir for special weekend church services at Harvest Bible Chapel, Elgin. Our middle school and high school choral program takes this fundamental skill set and knowledge and builds onto it, learning the sing in more complex harmonies, reading sheet music with multiple parts, and focusing on healthy, style-appropriate vocal techniques. The HCA Choirs perform at Java Jam, the Christmas Concert, our Middle School Showcase and High School Fine Arts Night, and the Spring Concert every year, in addition to smaller, informal performances in the surrounding community.