We believe in using athletics for the purpose of discipling our student athletes in and for Jesus Christ
Harvest Christian Academy has over 36 interscholastic teams competing for our middle and upper school.
The upper school is a member of the Illinois High School Association (IHSA) and competes in Class 1A or 2A for Bass Fishing, Cheerleading, Cross Country, Basketball, Baseball, Golf, Soccer, Track and Field, Wrestling, and Volleyball. The middle is a member of the Illinois Elementary School Association (IESA) for cross country, as well as track and field.
Led by our Athletic Director and our team of coaches, the staff is committed to integrating biblical principles in developing skills and talent within each student. This includes developing character, dealing with victories and defeats, while building rapport among teammates.
Visit each school lower school athletics, middle school athletics and upper school athletics for details on our winning programs.
Frequently Asked Questions
Where can I find team schedules?
Current schedules are listed on 8to18.com. Schedules can also be seen and downloaded on the Harvest Christian Academy app.
What is the application process by the school to apply for each sport?
Each student must register online every year for HCA Athletics (Click Here)
Each student and one parent must attend Athletics 101 in the Fall every year
Tryouts are the first day of practice and may last several days based on each coach's discretion.
What are the fees or costs associated with each program?
There is an annual fee for students participating in team sports. This fee covers all sports an athlete wishes to participate in over the course of the school year and allows HCA to have a certified trainer at all upper school home games who will assist with prep, injuries and rehabilitation.  Other benefits include a free sports physical (offered on HCA's Health Day,) and concussion screening and case management.
What summer camps and league programs are available for students?
Summer camps are offered for our Preschool – Upper School students
After school "lions in training" camps are offered throughout the year for lower school community members
Contact HCA athletics at athletics@harvestchristianacademy.org or (847)-214-3500 for more information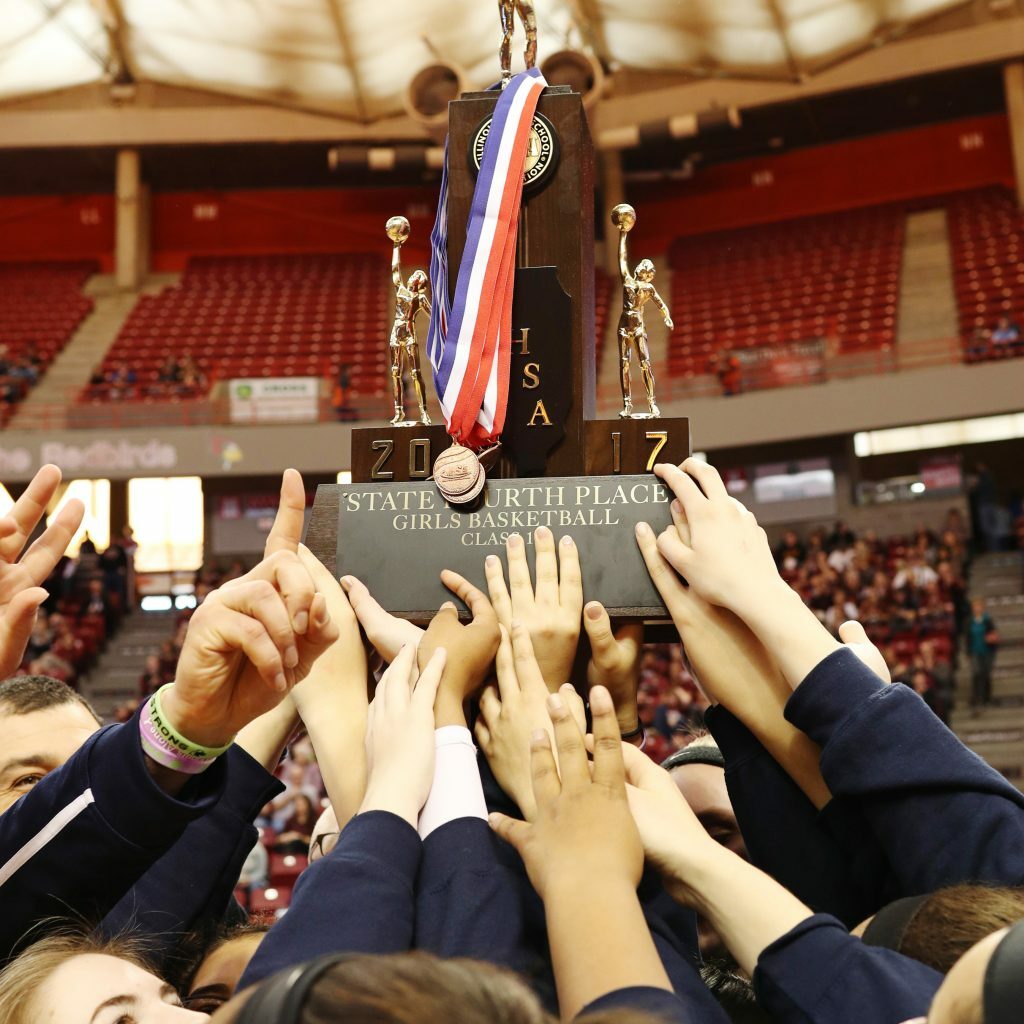 Booster Club Membership
Our Booster Club members, led by our Booster Club Board and Athletic Director, are dedicated to promoting, developing, and supporting the Harvest Christian Academy Athletic Department. The success of our programs is credited to the Lord's blessing and the efforts of committed parents who continually take their children to practices and games, volunteer whenever asked and support the program with a positive attitude.
Objectives of the Booster Club
Promote school spirit and encourage attendance at Harvest athletic events
Encourage and support all HCA athletes and coaches
Aid the HCA athletic staff in organizing and staging home athletic events and related activities
Demonstrate and encourage sportsmanship which reflects our commitment as followers of Christ
Provide supplemental financial support for the HCA Athletic Program
Sign up to join our Booster Club as a friend of HCA!