The Spiritual Life Department provides opportunities for our students to Worship Christ at Harvest Christian Academy
Through weekly chapels, we set aside time for worship and adoration of Jesus Christ through song and learning from the teaching. Our goal is to see students integrate faith and life both inside and outside the classrooms and beyond school walls.
Who speaks in chapel?
We are blessed to have many guests in our weekly chapels. We want our students to be exposed to a variety of teaching and worship styles. Many of our guests are pastors and worship leaders from Harvest Bible Chapels around the Chicagoland area. They all share our passion to see our students develop a dynamic and growing walk with Christ.
What is taught in chapel?
Our spiritual life team meets throughout the summer to prayerfully consider what the Lord would have us teach our students during the year. Some factors that impact the decision-making process may include: teacher and parental input, observed spiritual needs within the student body, and current student ministry teaching themes.
What is worship like?
Our worship very much parallels what students would experience during student ministry or even during the church's main services. In fact, many of the church's worship leaders are frequent guests in our chapels. In addition, we incorporate student-led worship teams that regularly lead our three sections of chapel. Our creative worship team helps model this as students experience worship through creative arts, prayer, scripture reading, service, and many other ways during our worship times.
What makes chapel different than an assembly?
Our weekly chapels allow our student body to gather in order to lift high the name of Jesus through worship and teaching. During this time, students take a break from their studies to get spiritually refreshed. This differs from our assemblies which are meant to provide students opportunities to express their school pride and celebrate various school achievements.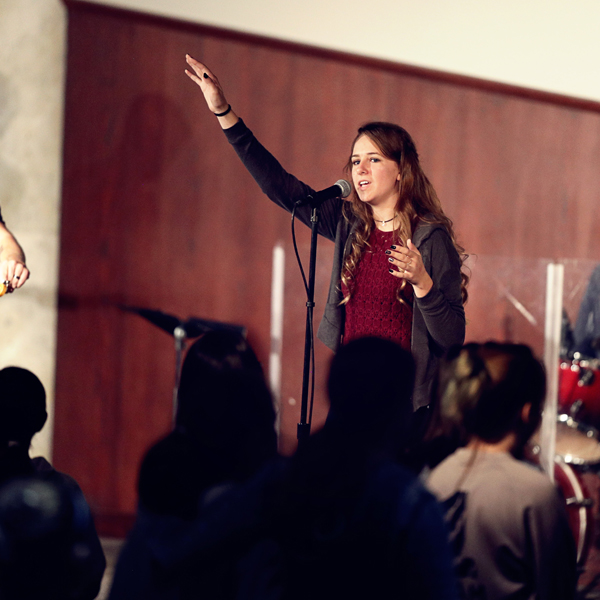 Student Led Worship
New this year, high school students will participate in Worship Academy and Worship Leadership classes. These students are the ones charged with leading in chapel for all school levels. We are thankful for Mrs. Melugin who teaches these classes.
Spiritual Life Director
Beginning in the Fall of 2021, Mr. Aurand is the Director of Spiritual Life for grades K-8. He will be in charge of the discipleship of our students with developing content for weekly chapels. As a teacher, he spearheaded Tie Tuesday discipleship program for our young men in grades 3 and 4 and continues to do so in this new role.