Harvest Christian Academy invites you
Would you condsider a monthly gift in honor of
Marc Abbatacola
who exemplified the heart of a lion?
Pastor Marc Abbatacola was a faithful friend and leader at Harvest Christian Academy. Before coming to HCA, Marc was an Air Force veteran who served in the Gulf War. After his military duty, he worked at American and United Airlines on their management teams and then took on his dream job as a full-time pastor on staff at Harvest Bible Chapel.   In 2011, Marc transitioned to lead Harvest Christian Academy which held a very special place in his heart because there he could disciple students 5 days a week, 7 hours a day.  He served with excellence as the Executive Director from 2011-2016.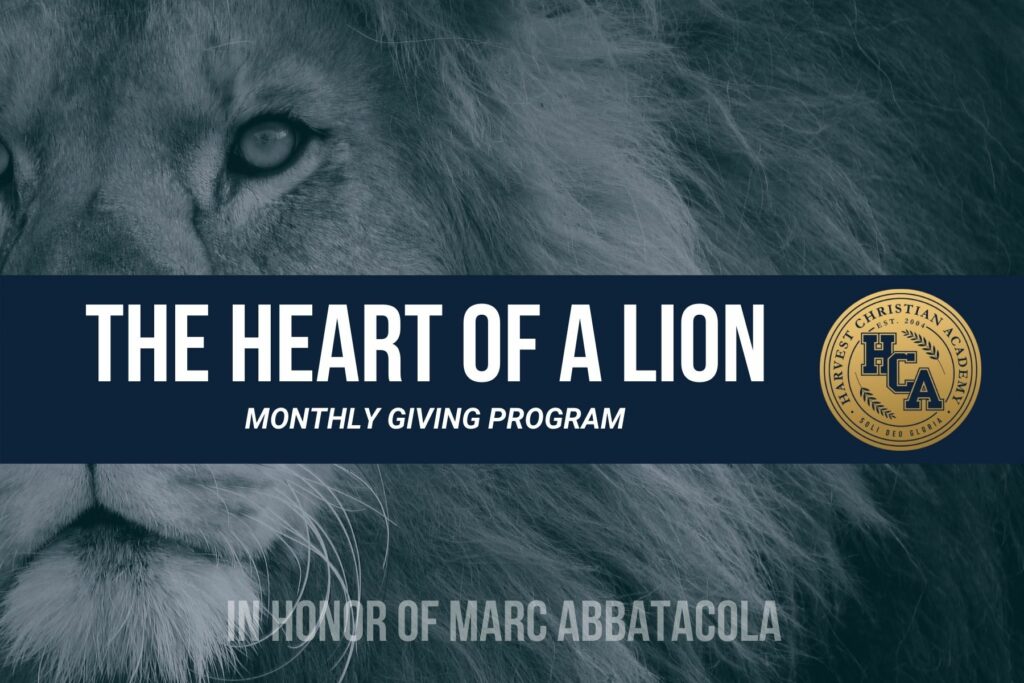 Throughout the course of Marc's life and his time at HCA, he exemplified what it means to have a "heart of a lion." Marc was a bold ambassador for Jesus Christ by faithfully preaching and teaching God's word, loving those who needed second chances, and building the church.
On July 4th of 2017, Marc suddenly went home to be with His Savior. Marc's passing has left a stamp on the heart of thousands as they remember the work of his ministry for Jesus here on earth.
By having the HEART OF A LION, and becoming a faithful monthly donor, means you empower students to be all that Christ has designed them to be, just as Marc did. This monthly gift allows HCA to reach more families and students who desire to pursue Kingdom education for their families.
Your gift will be stewarded with the purpose of advancing the Gospel of Jesus Christ here at Harvest Christian Academy, where students are known, loved and equipped to graduate and impact their circles of influence for Jesus and His kingdom.
Would you prayerfully consider giving where your heart is by pledging a monthly donation of $10 or more? 
 Consider a monthly gift that fits your budget. Your ongoing generosity and commitment makes an ETERNAL impact for students at HCA.
 Because every gift is precious and considered a sacrifice, no gift is too small.
Commemoration of donation information coming soon!
"Enter by the narrow gate. For the gate is wide and the way is easy that leads to destruction, and those who enter by it are many. For the gate is narrow and the way is hard that leads to life. And those that find it are few." Matthew 7:13-14