STUDENT ILLNESS POLICIES
(Updated 8/16/2022)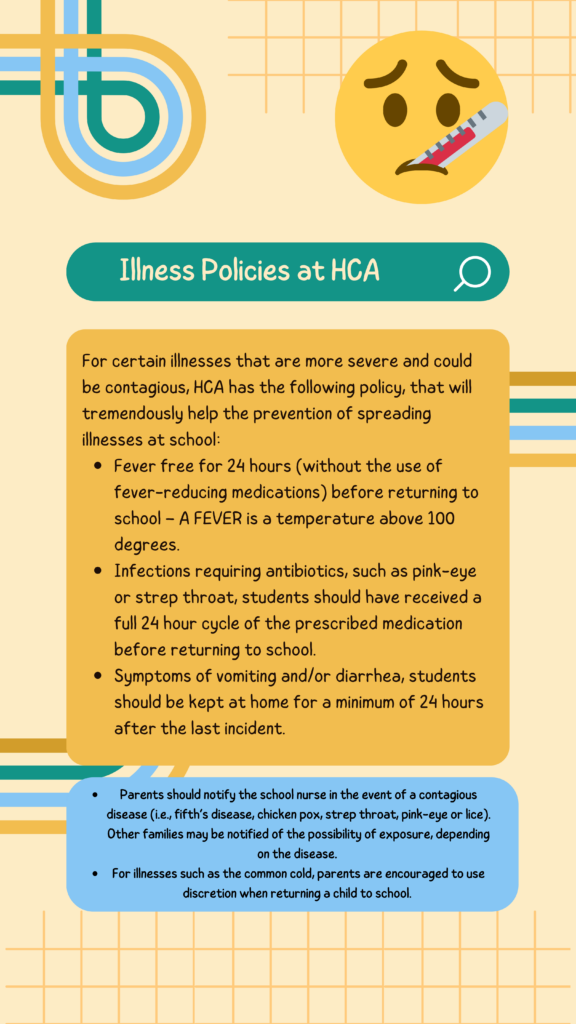 Illness Policies
To report student absence, use the illness icon on the bottom of the HCA App.
Parents should notify the school nurse in the event of a contagious disease (i.e., fifth's disease, chicken pox, strep throat, pink-eye or lice). Other families may be notified of the possibility of exposure, depending on the disease. 
For illnesses such as the common cold, parents are encouraged to use discretion when returning a child to school. 
For certain illnesses that are more severe and could be contagious, HCA has the following policy, that will tremendously help the prevention of spreading illnesses at school: 
Fever free for 24 hours (without the use of fever-reducing medications) before returning to school – A FEVER is a temperature above 100 degrees. 
Infections requiring antibiotics, such as pink-eye or strep throat, students should have received a full 24 hour cycle of the prescribed medication before returning to school. 
Symptoms of vomiting and/or diarrhea, students should be kept at home for a minimum of 24 hours after the last incident.
CLASSROOM LEARNING
As we believe in always teaching the whole child, in-person teaching provides the superior overall student experience. We are committed to a reasonable and balanced approach to the classroom environment. We are committed to being able to provide excellent in-person learning for our students while maintaining a healthy environment as much as is possible.
STUDENT AND FACULTY HEALTH
The health of our families, students, and faculty is extremely important to us. Hand sanitizer and hand washing will be utilized by students before eating, after gym class and after being outside, and as needed throughout the day. Students will be kept in smaller and more consistent groups as possible, mostly by grade level. We are working in conjunction with our building services team to build processes and procedures that will increase the frequency and efficacy with which every area is cleaned and sanitized. Our desire is to be able to provide a safe and healthy in person school experience.